The acrylic print is referred to by several names such as the acrylic face or photo mount and the general acrylic name is often referred to as Plexiglas (plexiglass), lucite or perspex which are just brand names of acrylic.
There are also two distinct processes of creating an acrylic print – direct printing on to the material vs printing onto paper and then face mounting to acrylic (the acrylic and print adhere with 1/8, 1/4, 1/2 or 1″ acrylic in front of the print.  The face mount process is a more difficult process and more expensive, but well worth it.  All my acrylic prints are true chromogenic print (C-Type) on Kodak Endura Metallic Pro and face mounted on Crystal Clear High-End acrylic glass and aluminium dibond backing, Ready to hang.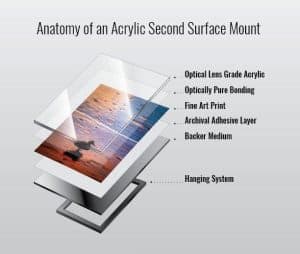 I'm a firm believer in the face mount method which provides greater colour pop and vibrancy as well as colour permanence (ie far less prone to fading over time).  Photo colours always look best printed on professional grade photo paper and the acrylic face mount takes advantage of the refractive quality of acrylic which helps to illuminate your print in the right lighting.  No other display technique can match an acrylic face mount in terms of vibrancy which is why this technique continues to grow in popularity among professional photographers.
[block id="20178″]
[block id="58696″]